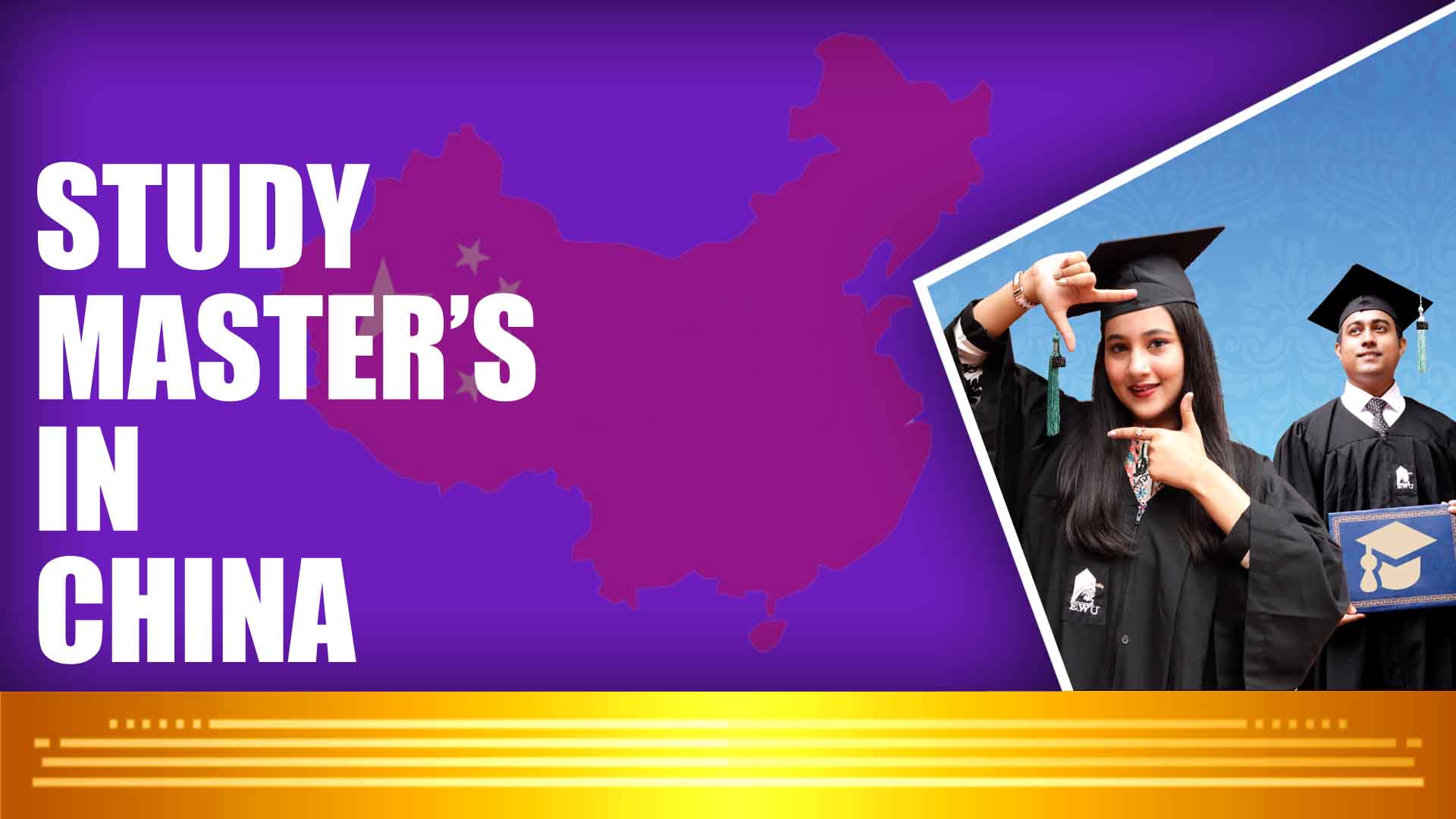 Study Masters in China
Study Master's in China for International Student
Are you looking for a way to study Master's in China as International Student? Yes, you're going to be a part of the world's greatest financial power. However, participating in Chinese university Master's programs is not an easy task for all.
Like most other developed countries, the Chinese education system has some rules and regulations to be a part of it. Nevertheless, most of the general students remain hesitant to find out the actual process for pursuing their post-graduation courses in China. Study Master's in China for International Student is best option.
Apart from these, students have a concern about expenses and tuition fees to study Master's in China as International Student. Therefore, we have come up with a complete guide about how to study Masters in China. Alongside, we're going to present some of the best Masters in China scholarships that'll make your study even more convenient.
Why Should You Study Masters in China?
Did you know that more than 85,062 international students were studying at the postgraduate level in 2018? This number is increasing by 10% every year. This statistic might represent the demand for master's programs in China.
China has been investing a significant amount of currency to develop world-class universities and a strong education system. The booming Chinese economy and diverse landscape attract millions of international students every year.
No matter you're a student of science and technology background or studied with business or Humanities as a major, there are plenty of post-graduation options available in China. Here are some of the most common reasons that drive students to study Masters in China:
World-class universities
The sustainable financial background of Chinese universities has driven several institutions to the list of world-renowned universities. In China, you'll find several universities ranked at the top position in world university rankings. These universities offer the greatest value of degrees and research opportunities to prosper in job sectors.
Travel opportunities
China is a heaven for travelers. The outstanding landscape and mind-blowing sceneries of China attract any nature lover. When you're studying in China, you won't ever remain stuck to visiting those fascinating places. The transportation facility in China is beyond expectation, and you can easily travel anywhere.
Least tuition fees and living expenses
Compared to many Western countries, China offers quality education and high-quality
degrees at lower tuition fees and living expenses in Chinese society.
Employment prospects
The booming economy of China is recognized across the world. There are numerous job
sectors all around China. Hence, graduates have a greater employment opportunity in
China. At the same time, the value of degrees offers decent work opportunities anywhere
in the world.
Masters Study in China Quick Overview:
| | |
| --- | --- |
| Universities | 2,596 |
| International Students | 225,100 |
| Course Length | 2-3 years |
| Academic Year | March to January |
| Average Fees | USD $3300-9900 |
| Oldest University | Peking University |
Chinese Universities in a Brief
Chinese universities are eminent all around the world for their excellent manifestation in science, technology, and engineering. About 40% of the total graduates are in these fields in China. However, their excellence is not limited to these.
Types of Chinese University
China is abundant with more than 2,500 universities. These universities are categorized in two types, which are:
● Public universities
● Private universities.
Public universities
Study Master's in China for International Student:
These universities are conducted by the administration of the Chinese Government. The funding of these institutions comes from the States and other governmental agencies.
Most of the public universities are renowned with glorious history and prestige. Getting scholarship opportunities to study in these universities is a bit easier compared to their private counterparts.
Private universities
Study Master's in China for International Student:
Private universities are those institutions that aren't administrated or funded by the Government. Rather, private universities earn their funding from various non- governmental organizations. These universities mostly rely on tuition fees.
Chinese university rankings
As you know, China is blessed with some world-class universities which have their names
as constant on world university rankings. Chinese Government uses a Double First Class
University Plan.
The main purpose of this ideology is to identify the most outstanding universities and
provide funding for the highest educational development of those institutions. Hence,
these universities often place on various rankings.
You can check the table below for a quick overview of the top 10 Chinese universities:
| | | | |
| --- | --- | --- | --- |
| University | QS 2022 | THE 2022 | ARWU 2021 |
| Tsinghua University | 17 | =16 | 28 |
| Peking University | 18 | =16 | 45 |
| Zhejiang University | 52 | =75 | 58 |
| Fudan University | 31 | 60 | 100 |
| University of Science and Technology of China | 98 | 84 | 63 |
| Shanghai Jiao Tong University | =50 | 84 | 59 |
| Wuhan University | 225 | 157 | 151-200 |
| Nanjing University | 131 | =105 | 101-150 |
| Huazhong University of Science and Technology | =334 | 181 | 101-105 |
| Southern University of Science and Technology (SUSTech) | =275 | 251-300 | 301-400 |
Types of Courses
It is an open truth that technology is the strength of China. The main reason behind this advancement in technology is their equanimous Science and Technology disciplines. Instead of Arts and Humanities, Chinese institutions emphasize technological subjects.
However, China is developing the American liberal arts educational model to embrace these fields as well. There are many MSc, MA, MBA, and MRes courses offered by several institutions.
In recent years, China has been trying to develop higher education qualifications by signing mutual recognition agreements with over 50 countries like America, France, the UK, and Japan.
However, you should analyze whether your intended subject of a particular university is recognized internationally. China has a unique academic year, which starts in March and ends in January. Each course is structured with individual semesters. The duration and number of study leave depend on the institution and courses you want to pursue Study Master's in China for International Student.
Language for Masters Programs
You can pursue your Master's degree either in Chinese or English language. However, international students seek for studying their courses in the English language. So, if you want to pursue your degree in English you have to choose some specific courses including business, medicine, computer science, engineering, and technology.
Students who have English as their first language won't need to participate in any language test. However, if English is not your first language, or you do not have an English background, you have to submit proof of your language proficiency to enroll in an English taught program Study Master's in China for International Student.
List of Popular Masters Programs in China for International Students
Here we have a list of the most popular Master's Programs in China for international students. Note that, all the courses in this list are conducted in the English language.
Masters in Mechanical Engineering
Double Degree Master's Program in International Business (Global Management and China Studies)
Masters in Environmental Science and Engineering
International MBA
Digital MBA for Global Leaders (DiMBA)
Masters in Architectural Design
Masters in International Affairs
Masters in Aeronautics and Space Science and Technology
Masters in Information and Communication Engineering
Masters in Medical Imaging and Nuclear Medicine
Masters in Physics
Masters in Intelligent Manufacturing and Control Engineering
Masters in Applied Statistics
Fudan-MIT International MBA (IMBA)
Masters in International Communication
Masters in High-end Brand Management (HEBM)
Masters in Global Management
MSc in China- Fees and Expenses
As we mentioned before, China studies offer various master's courses, which require fewer tuition fees. In addition, the living expenses in China are quite lower than in most other countries. You may find many essential commodities at cheaper prices even than in your own country.
Tuition fees for Masters's programs depend on your course and institution. So, you should compare different programs offered by various institutions for Study Master's in China for International Student.
Tuition fees
The average tuition fees for pursuing a Master's degree in China range from USD $3,000 to 9,900. In Chinese currency, it will be 200000-600000 RMB. However, tuition fees may vary depending on your course and institution. Generally, specialized programs including MBA might cost you more than this range.
Additional fees
When you're planning for studying master's in China, you should be prepared to bear some additional fees as well. These fees include:
● Visa fees– This is a mandatory cost you have to cover. However, it is also variable depending on your country, but the least amount can be USD $140 for one year of your study.
● Application fees– Chinese universities offer an official international application service, which is completely free. Yet, you have to spend around USD $90-150 for individual universities.
● Medical examination fee– The medical examination fee often varies depending on the place where the examination has been undertaken. However, the minimum cost of a medical examination is USD $100.
● Health insurance– It completely depends on your needs and provider, but the approximate cost of one-year health insurance is USD $95.
Chinese universities with Affordable Tuition Fees
Here are some of the most affordable Chinese universities listed below:
| | |
| --- | --- |
| Universities | Cost Per Year |
| Northwestern Polytechnical University | $2,900 to $4,350 per year |
| Ningbo University | $2,600 to $4,700 per year |
| Beijing Normal University | $3,470 to $4,670 per year |
| Liaoning University of Technology | $2,200 to $3,760 per year |
Accommodation costs
Most of the modern and larger Chinese universities have specific accommodation facilities for international students. So, it's better to choose your courses at such universities. However, accommodation fees in China range from $120 to $675. And again, it varies depending on your accommodation type and living expenses of that particular area.
Living costs
Living costs in China vary significantly depending on the city where you're going to live. For instance, you may need to spend $1000-$1200 per month, when living in an expensive city like Beijing. On the other hand, this cost may be around $850-$1200 in cities like Shenzan or Shanghai.
If we talk about the average living cost, it may range from 600 to 1200 USD/month. As you know, the living expenses vary massively, so be wise to select the city where you're going to study.
Fully Funded Scholarship in China 2021
The financial limitation is a common phenomenon in poor or developing countries. That is why many talented youths don't even dare to think about higher study abroad.
Fortunately, China offers a variety of scholarships every year to support higher education. Here are some of the most popular sources of Masters in China scholarships. If you want to study masters in China with scholarship, check them now.
CSC Scholarships- Chinese Government Scholarships
CSC Scholarships are the most eminent and common scholarship opportunity for international students. Every year, the Chinese Scholarship Council provides these scholarships.
Generally, CSC scholarships are awarded under the initiative program of the Chinese Ministry of Education for supporting students to develop quality education, better cultural exchange, mutual understanding, and cooperation in Chinese politics.
These scholarships can either be fully-funded or partial. However, study programs that require higher tuition fees such as MBBS programs, MBA programs are not covered by CSC. In this case, students should check for other scholarships.
If you qualify for a CSC scholarship, you'll get a monthly stipend along with other facilities including free tuition and accommodation during your study period. There are about 279 universities in China that accept students with CSC scholarships. You can check the list here.
You will need to contact any CSC scholarship agency for proper directions. However, the only authentic source for CSC scholarships is the CSC official website, www.csc.edu.cn.
Chinese Scholarship Council offers three major types of scholarships, which are:
Great Wall Program
Type A- Bilateral Program
Type B- Chinese University Program
CSC scholarship 2021 universities list
CSC Scholarship in Zhejiang University, China
CSC Scholarship in Wuhan University, China
CSC Scholarship in Zhejiang University, China
CSC Scholarship in Shandong University, China
CSC Scholarship in Nanjing University, China
CSC Scholarship in Xi'an Jiaotong University, China
CSC Scholarship in University of Science and Technology of China
CSC Scholarship in Jiangsu University, China
CSC Scholarship in Shanghai Jiao Tong University, China
CSC Scholarship in China University of Geosciences
CSC Scholarship in Southwest University, China
CSC Scholarship in Harbin Institute of Technology, China
CSC Scholarship in Fudan University, China
CSC Scholarship in Beijing Normal University, China
CSC Scholarship in China University of Geosciences
Check the official website for further details about the Chinese Government scholarship deadline 2021/2022.
Chinese Embassy Scholarships
You can also check the Chinese embassy for scholarship opportunities. Actually, this is another type of CSC scholarship handled by the embassies. Chinese Embassy Scholarships can be fully or partially funded as well. You have to apply for these scholarships between January to April.
Chinese University Scholarships

Study Master's in China for International Student
Many Chinese universities offer scholarship programs for foreign students. These scholarships are great opportunities for students who face difficulty to bear tuition fees and other expenses.
For instance, Xiamen University has five specialized scholarship programs for international students that cover tuition fees to accommodation, and other costs as well. Applying for Chinese University Scholarships is much easier than CSC scholarships.
Jiangsu University scholarship is also a popular scholarship program for international students. You can apply for this scholarship under the presidential scholarship program of China Admissions.
More than 150 universities in China including some top institutions like Shandong University, Peking University, East China Normal University, and Renmin University offer scholarships. You can access those scholarships via their official scholarship webpage.
Some of the major university scholarships include:
China University of Petroleum (Beijing) Chinese Government Scholarship
Nankai University Scholarship For New Student
Tianjin University of Science and Technology Scholarship
Tianjin University International Student Scholarship School of Environment Science and Engineering
Hohai University Scholarship
Shanghai International Studies University Scholarship
Xiamen University Scholarships for New International Students
Zhejiang University Scholarship for International Postgraduate Students
Jiangnan University New Student Scholarship
Confucius Institute Scholarships
Confucius Institute Scholarships are the most popular scholarships in China. The main goal of Confucius Institute Scholarships is to promote the development of Confucius Institutes, Chinese history, culture, and language transmission in the world.
These scholarships help to cultivate graduate students and teachers with strong knowledge about the Chinese language and literature. Confucius Institute Scholarships are sponsorship programs launched by the Confucius Institute Headquarters.
City Scholarships in China for International Students Study Master's 
You might be surprised to know that, there are several high-tech and popular cities in China that offer scholarships. The main objective of city scholarships is to attract more international students. Some of the major city scholarships include:
Liaoning Scholarship
Beijing City Scholarship
Shanghai City Scholarship
Hangzhou Government Scholarship
Jiangsu Jasmine Scholarship
Yiwu City Scholarship
Ningbo City Scholarship
BLCC Scholarships
Beijing Language and Culture College offers scholarship opportunities at Tianjin University. The main goal of these scholarships is to promote the development of Chinese culture and heritage.
MBA Program Scholarships
Students who're willing for MBA scholarships have some opportunities as well. These opportunities are offered by several universities. The most popular MBA program scholarships include:
Private Scholarships
These scholarships are offered by diversified sources such as charitable institutions, distinguished alumni, and big companies. Private scholarships may cover tuition fees fully or partially. In most cases, these scholarships have been awarded to international students with outstanding academic records.
One of the major private scholarships is the British Council Scholarship.
British Council Scholarship
This scholarship is offered by the British Council in China. Under this campaign, there are seven scholarships are available to support and encourage UK students for studying in China. British Council China Scholarship is only applicable to students who hold British passports.
How to Apply for Master's Programs in China
Most of the Master's programs in Chinese universities have an academic year of two semesters. However, some universities have three semesters in their academic year as well. Most importantly, you should apply for your desired course as early as possible.
Applying for spring semesters
Usually, the application process for spring semesters continues from late October to late January. The spring semester starts in late February or at the beginning of March. As we mentioned above, try to apply earlier. Applying earlier will provide you with more time to manage and organize all necessary documents.
Applying for autumn semesters
Applications for autumn semesters continue from late February to late July, and the semester starts in September or October. If your application is accepted, you'll be notified within May to early June via an official admission letter.
That means you'll get a limited time to organize your documents. So, like spring
semesters, applying earlier for autumn semesters has some advantages.
Application Process
When you're going to apply for a master's degree program in any Chinese university, you might see several options. For instance, you can apply to your university directly, or you can use official support services like CUCAS. Don't rely on unofficial agencies at all.
The whole application process may take two or three months. You can reduce that processing time by following some tips such as applying early. You should also avoid busy times of the year for faster processing.
Here, we're going to discuss the two major application processes in detail:
Applying directly to the University
This is the most common application process and is available in all universities. Applying directly can be much easier if the student has decent knowledge about the Chinese language and is able to communicate with the desired institution.
You may not find any dedicated staff to help in your application process. So, you have to be more careful in every step. In addition, you should be cautious about the time zone. One fact to note, applying directly to any university has no guarantee of providing student accommodation.
Applying directly to any university comprises the following steps:
Submitting an online application via China Admissions official website
Submitting application materials and paying the application fee
Reviewing your application by the admission committee
If your application is approved, you'll get an update from the website
You'll get an admission letter with further instructions and important dates.
Admission Requirements
To be eligible for any Master's degree program in China, you have to submit some documents and fulfill certain criteria mentioned below:
You should have a valid passport
You should have a Bachelor's degree or any equivalent undergraduate qualification
Two recommendation letters from your undergraduate university or referees
You have to pass the medical examination
Official transcripts of your previous academic achievements
Personal statement letter
The proof of your language proficiency
Note: Some universities may have age limitations for post-graduation courses.
Language Requirements
As we mentioned before, you can pursue your Master's degree either in Chinese or English language. However, not all courses are available in the English language. If you want to pursue your degree in the Chinese language, you have to participate in a language test. You can admit to your desired program only if you pass that test.
Study Plan for Master Degree in China- What about Visa and Immigration Requirements?
To start your study in China as an international student, you must hold a passport and visa with validity. The Visa application process can be a bit longer in certain aspects. So, you should apply for the visa earlier. However, it will take up to 4 weeks. After that, you'll get an offer letter from your university.
How to apply for an X1 visa
At first, you have to find out a Chinese embassy or consulate in your country. There you can start the application process without any hassle. The whole process requires certain documents, including:
● Your valid passport (minimum 6 months validity). For your visa stamp, the passport should have a blank page.
● Your recent passport size photograph.
● If you're not applying from your home country, you have to submit the proof of your
legal residence where you're living now.
● An issued University admission letter for your Masters.
● A visa application form with all necessary information.
Instructions after Arrival
Upon arrival in China, the first you to do is arranging your accommodation. For this, you have to manage a Temporary Residence Registration form. You can get this form from various sources. For instance, you'll get that form from the university when you're intending to live in university halls.
If you want to live in rental properties, you'll need to contact the local authority for getting this form. Although this is the initial process of getting a longer residence permit later.
The registration process can also vary depending on individual institutions. However, you might need to submit certain documents no matter what the institution is. These are:
Your passport with an additional photograph
An admission letter
A copy of the health insurance letter
Confirmation of the health insurance
Proof of payment of tuition (Money receipt)
Your Temporary Residence Registration Form.
End Remarks
At present, China is considered one of the most demanding destinations for studying abroad. No matter, you couldn't enroll in an undergraduate program. Still, you have chances to be a part of this fabulous country. So, don't waste your time and move ahead to study Masters in China.